WE HAVE MOVED TO A NEW LOCATION:


241-20 Northern Blvd., Douglaston, NY
Call 718-631-3828
5 mins. from LI Expy, Cross Island Pkwy or LIRR
FREE Easy Parking Nearby



"Let's relieve your dental worry . . . naturally!"
Hello, I'm Dr. Ana Balica. Welcome to my Holistic Dental Office!
Top reasons why many patients call:
Stress-free treatment, painless and affordable.
Small, comfortable steps, at your speed.
28 years, helping people just like you, to feel better.
Bio-Compatible safer materials, better for your body.
Safe Mercury Amalgam Removal Technique (SMART Certified).
Embarrassed about your teeth? No worries, No judgements.
You are among friends here, we gently help everyone.
Don't Worry Another Minute, Call NOW  –  718-631-3828
A question I'm frequently asked:  Aren't all dentists the same, more or less? What is HOLISTIC dentistry??
My reply: While it's true that all dentists go to dental school to learn the basics, some of us continue to learn even more . . .
As a Biological Dentist (also known as a Holistic Dentist or Natural Dentist), I'd like to share some exciting SECRETS that go way beyond your teeth. Recent studies have proven the "Oral Systemic Connection", which means that compromised oral health may be a serious risk factor for diabetes, heart disease, cancer and stroke. Many of my patients have reported improved physical health, after receiving effective dental treatment.
If you would choose organic food, you might also choose a biological dentist.
How else do I differ from a "regular" dentist?  First, I listen to you. You won't be rushed in my office. You know your body best and when something's wrong. Before we fix a problem, we'll take it a step farther and look for the reasons that you developed that problem to start with!  Secondly, I am also concerned with the safety of dental materials and only use high-quality, bio-compatible brands. I am the only SMART (Safe Mercury Amalgam Removal Technique) certified dentist in Queens County, New York.  The following is just one of many positive reviews that I have received  . . .
I have an auto-immune condition and I'm extra sensitive. Dr. Balica is the only dentist I have ever been to, who paid attention to my special needs. Having her safely replace my old silver fillings was one of the best choices I ever made! Since then, I feel that my body has had a chance to heal, more than it has in a very long time. With Dr. Balica I feel comforted and at ease, that I am in the best hands possible.
Secret 1

: Amalgam "Silver" Metal  Fillings are not the only option.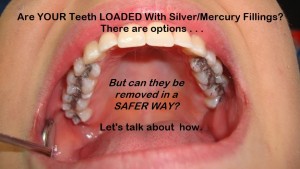 FACT : Amalgam "silver" fillings contain 50% mercury . . .  a known toxic substance!
FACT : Several European countries have banned the use of amalgam fillings by dentists!
FACT : Some dental schools no longer allow their students to place amalgam fillings on clinic patients!
FACT : Amalgam fillings release mercury vapor during eating, tooth brushing and even drinking coffee or tea!   Watch SHOCKING Video
FACT : New York State EPA requires dentists to pay for certified disposal of old amalgam fillings as TOXIC WASTE!
FACT : On Sept. 24, 2020, the U.S. Food And Drug Administration publicly stated for the first time that "pregnant and nursing women, children under 6 and people with certain health conditions, may experience harmful effects of mercury exposure."
FACT : You have CHOICES about the types of materials which can be used to repair teeth. Ask your healthcare professional!
What you must know about safely removing Amalgam "Silver" Fillings

Amalgam "silver" fillings sometimes breakdown (or the surrounding original tooth) with age. This may require their removal/replacement and your dentist may advertise as "Mercury-Free" (does not use amalgams).
You should know that "Mercury-Free" does not mean "Mercury-Safe".
"Mercury-Safe" means that the dentist has specialized equipment, advanced training and years of experience to safely remove your old amalgam fillings. Most important, they will help protect you from exposure to potentially toxic elements,  which may be released in the removal process.
I offer both, "Mercury-Free" and "Mercury-Safe".
I am accredited by the IAOMT.org in the SMART Amalgam Removal Technique.

Learn about the 19 Protective Steps recommended by the International Academy of Oral Medicine and Toxicology (IAOMT.org), for safely removing Amalgam "Silver" Fillings.
Learn more facts about dental mercury from the IAOMT.org
DISCLAIMER: I want to make it absolutely clear, however, that the decision to remove and replace these fillings can only be made by you. The FDA believes that amalgam fillings are safe but as of September 24, 2020 have issued a

WARNING

about placing amalgams

on patients with health issues

, pregnant and nursing women

and children under 6 years of age.  You will have to weigh the evidence and come to your own conclusion. I cannot be part of that decision. The information provided on this site is not intended as medical or dental advice and should not be interpreted as such. The intent is to provide as much scientific information as possible on different dental materials and aspects of dentistry where controversy exists and scientific clarification would be of benefit to patients,staff, dentists, physicians and scientists in making informed judgments. If you seek medical or dental advice, please consult with a health care professional.

You must always exercise your own best judgement when using the services of any health care practitioner.



Want more information about Mercury Amalgam fillings?
In December, 2019 an important research article was published in the U.S. National Institute of Health database, which clearly stated:
"Mercury is one of the most toxic elements and causes a multitude of health problems. It is ten times more toxic to neurons than lead. This study was created to determine if mercury could be causing Alzheimer's disease (AD) by cross referencing the effects of mercury with 70 factors associated with AD. The results found that all these factors could be attributed to mercury. The hallmark changes in AD include plaques, beta amyloid protein, neurofibrillary tangles, phosphorylated tau protein, and memory loss—all changes that can be caused by mercury." 
Dr. Joseph Mercola, well known natural physician and NY Times bestselling author has described mercury dental fillings as a "Biochemical Train Wreck".  Dr. Mercola has a fascinating video called "How to Find a Biological Dentist that Can Treat You Holistically". Dr. Mercola has had frequent appearances on national media including the Dr. Oz show and major news channels.
Additional educational videos:
Documentary Mercury Undercover – The "Mad Hatter" Story
Mercury – How To Get This Lethal Poison Out Of Your Body
Secret 2

: Biocompatibility Testing & Dental Toxicity

*
Did you know, that not all dental materials may be right for you?
Dental toxicity can occur when materials placed in a patient's mouth cause that person's immune system to react and "reject" the restoration. All patients, especially those facing serious medical challenges, have the available option of Biocompatibility Testing. This definitive blood test will specify the exact brands of dental materials which are best suited for your body chemistry.
Recent studies have suggested that systemic inflammation can place a burden on your immune system and stress new or pre-existing medical conditions. Dental products are foreign to the body and will affect each individual's immune system in varying degrees.
How does the test work?
A small sample of your blood is tested for reactivity to the components  of over 3000 dental materials that can be placed into 21 different categories. Each category is then divided into three sections: Highly Reactive, Moderately Reactive and Least Reactive.
Categories include products that fall under the listings of: cements, composites, high noble crowns, low noble crowns, dentures, bonding materials, temporary materials, etc. Each category has a continually growing list of dozens to hundreds of brand name products. Each dental product is followed by a code from which indicates the name and phone number of the company that distributes that specific dental material.
*Not currently available in NYS, due to government restrictions. Still available in NJ & Conn.
As a Thank You for visiting, please ask for my complimentary report:
"How to AVOID going to the Dentist and how to PICK A GREAT ONE, if you must"
My office is the LARGEST and MOST INNOVATIVE Holistic dental office in Queens County, New York. With over 28 years of experience and over 35,000 patient visits, I am proud to announce a 98.7% patient satisfaction history. Dislike waiting endlessly in the doctor's office? I have a 91.3% "On-Time" appointment record! To reserve your special consultation, call me at 718-631-3828.
Don't you deserve a Biological Dentist?
Biological dentistry, takes into account a person's physical and emotional health. As a biological dentist since 1994, I have helped thousands of patients to look and feel their best.
I look for the reasons you had a problem to start with, not just fix what is now broken or painful. If you would choose organic food, you might also choose a biological dentist.
I use natural therapies (often in combination with conventional ones) to prevent, diagnose, and treat diseases of the oral cavity. Oral health is crucial for overall health. The oral cavity is the place where many microbial infections first enter the bloodstream. Compromised oral health may be a risk factor for diabetes, heart disease, and stroke.
Your personalized treatment plan will include preventative care which goes beyond just practicing good oral hygiene. Your body can heal, given the right conditions. I believe strongly in better nutrition and positive lifestyle changes.
I can help you save your natural teeth. Together we'll create the healthy, beautiful smile you deserve, using the finest bio-compatible materials.
(For more background on Biological Dentistry, and the amazing ways it can help you, click here.)
In a rushed digital world, I offer "old-fashioned" courtesy

I take the time to show and explain how your problem started to begin with.
I discuss your options and what's comfortable for you.
l listen to what's on your mind, be it emotional, technical or financial.
I respect your time, and don't keep you endlessly waiting.
Even though I use the phrase "old-fashioned", rest assured I am quite modern and up-to-date. You'll find a spotlessly clean, warm and attractive facility with all the latest equipment and technical services. More important, in my office you'll find a safe environment to share all of your oral health concerns, confidentially with me.
Get the information which can give you a personal edge, in my complimentary report:
"How to AVOID going to the Dentist and how to PICK A GREAT ONE, if you must"

I can help you resolve these common concerns:
Do you have fears about dental treatment?
Are you embarrassed about missing teeth?
Are you ashamed for "letting your mouth go"?
Are you annoyed with yourself for putting off treatment?
Are you worried how you can afford the cost of treatment?
Do you need special encouragement to "get started"?
Secret 3

: Do you have chronic bad breath? Embarrassed?
Do your teeth HURT when you chew? It may be gum disease.
Bad breath is usually just the first warning sign, along with slight bleeding, when you brush. Chewing more gum, to try and cover the odor, is not the solution.

Gum disease is often completely painless, until the last destructive stages. At that point, surgery may be recommended. Now there is an effective non-surgical alternative, that you can use at home.

Bad breath (also known as Halitosis)  is usually due to Periodontal (Gum) disease, 95% of the time. That unpleasant smell comes from pockets of bacterial infection, located under your gums, around the roots of your teeth.
No matter how often you brush or floss, these pockets never get clean. They only get larger and deeper, as the infection progresses to eat away the bone, anchoring your teeth.

It is estimated that over 75-80% of the adult population has this affliction.
Even worse, there is no permanent cure.
Periodontal disease, if left untreated, is the major reason that adults eventually lose their teeth. If it is very severe, it may require the services of a dental specialist, who will try to perform heroic surgical procedures on the gums. Not a pretty picture.
Now for some good news, hope has appeared, to tame the beast.
I have developed a successful, non-surgical, multi-step program to get this under control. This includes the use of Laser technology, which will painlessly reduce the level of infection around your teeth.
Depending on the severity of your condition, I can also offer another painless and cost effective method for treating gum disease in the privacy of your own home. A breakthrough product called Perio Protect, has shown to effectively reduce gum bacteria and shrink the pockets of infection around your teeth (when used as instructed). In some cases, it has actually encouraged new bone growth, which was considered impossible just a few years ago. This remarkable product is not available in stores and must be prescribed by a trained Perio Protect Provider. Patients have reported seeing significant improvement, in as little as 30 days!

Call my office TODAY to schedule an evaluation, so I can determine if you are a candidate for this life changing system. 718-545-7175. Please call again if the lines are busy.
Limited Space and Availability . . .

Act Now!
I am honored to welcome many referrals from delighted patients, their families, friends and co-workers. This is a testament to the confidence they have in me and my staff, to provide a superior dental experience. I have recently expanded my hours, after numerous requests from my loyal patients.
As a result, I have a limited number of premium appointments available for new patients, if you act quickly. To reserve your special consultation, call me at 718-545-7175.

P.S. Don't forget to request your personal copy of my informative, complimentary report:
"How to AVOID going to the Dentist and how to PICK A GREAT ONE, if you must"